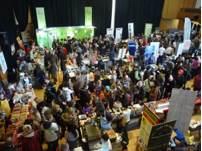 We are now gearing up for the Vegfest at the Brighton Centre on the 23rd and 24th of March 2019. Almost there with the vegan sausage roll recipe, so hopefully it will be rolled out in time, I am using Lentils, Chick Peas, Mushrooms, and a few other secret ingredients.
This is as well as our Vegan pies, we will be bringing a selection of 6 vegan pies, so I expect to be baking all day and night on Friday, as we want them as fresh as possible.
If you are going we will have a special offer just for the Vegfest event where you will be able to get a pie for £3.50 or you could buy 4 pies for £12.
We have just found out that we will be attending this years chilli festival at West Dean just outside Chichester for the 3 days, we should even have our new vegan pasty ready for then. Just keep an eye out for our updates for this event.
We do hope to see you at the Brighton Centre for this years Vegfest
Fraser Neal